OUR Mission
Hallie Hill Animal Sanctuary is a 501c3 that provides sanctuary for dogs and cats with no other home or shelter, rescues and cares for animals in need of assistance for the remainder of their lives, including providing proper shelter, nutrition and medical care.
What we do:

Provide respite and rehabilitation for dogs and cats preparing them for adoption, and a loving forever home to those unable to be adopted.
Perform community outreach in our area of Hollywood and Ravenel, two of the under served areas of Charleston County.
Provide food, medical services, spay/neuter, vaccinations and general wellness care.
Provide long-term care and a loving, final home for those animals whose adoption may be difficult due to age, medical or emotional issues.
Reinforce the human component of the human/canine/feline relationship in a respectful way by recognizing and honoring the fact that people's love for their animals transcends economic circumstances and cultural differences.
Sign Up for Our Newsletter
Get All the Latest News and Events
Once we take an animal in, we promise it a home for the remainder of its life, should it not be adopted. We work with local shelters and rescues taking in dogs that might not get adopted due to age, medical, or behavioral issues helping Charleston to achieve the status of a NO-Kill Community. Hallie Hill is UNIQUE. We have over 30 acres of land that provides large enclosures for dogs to live and play. There is a pond for swimming, dog houses with straw and heat lamps, and individual pools to help keep the animals comfortable. The animals are well cared for with the help of many dedicated volunteers and staff.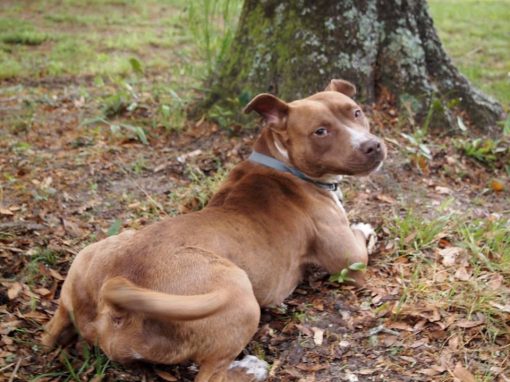 Shelter. Food. Love.
Smokey's story is much like the others at Hallie Hill. He wandered up to Hallie Hill in 1997. He was found collapsed outside our main fence suffering from severe head wounds and starvation. The employee who first spotted Smokey, mistook him for a scrap of fabric someone had tossed to the ground and described him as a "bag of bones".
After a few months of love and care, Smokey was far from starving. He enjoyed his time at Hallie Hill and spent his geriatric years tottering around the barn or sunning himself in the yard. He will forever be at home on Hallie Hill – resting in the cemetery.
Hallie Hill provides sanctuary to approximately 200 dogs and cats. Many of these animals bravely survived abuse and or neglect to arrive at Hallie Hill for the care and love they have always deserved. Within days of arriving, each animal is seen by a veterinarian to receive any and all medical attention they need to be healthy – from heartworm treatment to complex surgeries. Once the new arrival is healthy, they are introduced to an enclosure with plenty of space, a house complete with an automatic watering bowl, bedding, and heat lamps in the winter.
Our primary goal at Hallie Hill is to provide a loving home with all of the comforts possible to the animals for which we care.
Visit Smile.Amazon.com and choose Hallie Hill Animal Sanctuary as your charitable organization and Amazon will donate a portion of your purchases to Hallie Hill on eligible items every time you shop.
That makes us smile!
MESSAGES FROM FRIENDS OF HALLIE HILL
"If I were a stray animal this is where I'd want to end up. Beautiful place with large clean pins and lots of shade. You can tell the people that run this place really care. The only thing I can't figure out is how my awesome little friend stayed here so long without being adopted but I'm glad he did."
MESSAGES FROM FRIENDS OF HALLIE HILL
"This is the most amazing place. Its not a kennel or a shelter, but a sanctuary for dogs and cats with no homes. Every animals is lovingly cared for by staff and volunteers, with the goal to connect dogs or cats with people who will love them and give them a forever home. "
MESSAGES FROM FRIENDS OF HALLIE HILL
"Great place that caters to the unwanted or overlooked animals. They really care about the animals there."
MESSAGES FROM FRIENDS OF HALLIE HILL